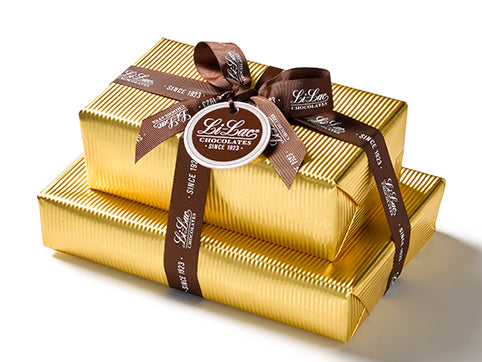 Tower of 2 Chocolate Gifts
Regular Price
Sale Price
$110.00
Chocolate Tower of 2 Gifts
When one box of chocolate is just not enough, consider a Tower of Gifts. This decadent Chocolate Tower contains two signature assortments for a stunning impression that everyone would love to receive. Each box is individually wrapped in an elegant gold stripe paper, stacked as a tower, and tied together with an over-sized satin ribbon. Handmade in Brooklyn. Kosher Certified. Ships in 24 hours.
This Chocolate Tower contains two of our most popular assortments:
- 15 piece Truffle Assortment
- 20 piece French Assortment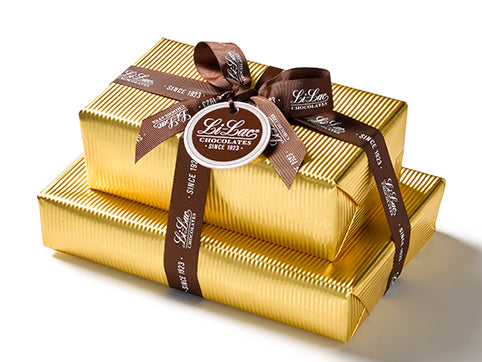 100 years of chocolate making experience
Hand-crafted in small batches for exceptional taste and superior quality
Factory freshness and quality guaranteed
Kosher Certified by the Orthodox Union
Frequently Asked Questions
What makes Lilac Chocolate the most luxurious handmade chocolate?
How do you keep the chocolates from melting during shipping?
What is your return policy?
Can you deliver same day in New York City?
Ms

I sent this as a holiday gift to the head of an organization I sit on the board of. The recipient LOVED it. It made a big impression. You can't go wrong with chocolate from Li-Lac!

WOW!

I receive this as a gift every year and I'm telling you, I'm like a 5 year old on Christmas day! It's truly the most beautiful, decadent chocolate I have ever tasted in my entire life! I love everything about this company. Not to mention the packaging is absolutely beautiful. This is top notch service and even better product! I am one jolly gal today!

Heaven times Two

Great combo to give. Just as you are finishing the rich 26 piece Home Assortment, now comes the luscious 16 piece Truffle Assortment. Fun to hold off on giving the Truffle box until the Home box is done and start the party all over again.97
Reviews Loaded
Reviews Added