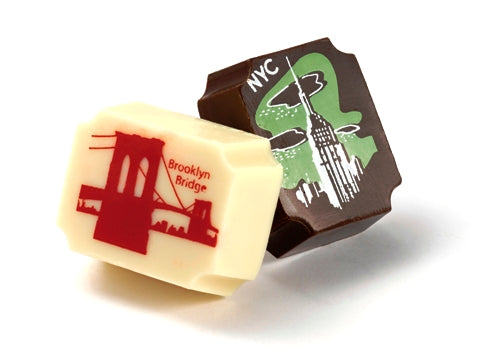 NYC Hotel Amenity 2-Piece Chocolate Packs (1 Case = 108 packs)
Regular Price
Sale Price
$270.00
NYC Hotel Amenity 2-Piece Chocolate Pack
This is the perfect gourmet chocolate amenity for hotels, residential buildings, or anytime you need a bite-sized handout for a large group. This adorable 2-piece NYC Chocolate Pack contains two 1.5" solid chocolate mini-bars with our exclusive NYC designs. Each pack contains one white chocolate mini-bar featuring the Brooklyn Bridge and one dark chocolate mini-bar featuring the Empire State building. Both pieces are wrapped together in a clear cello that makes it perfect for a pillow amenity or handout. Handmade in Brooklyn. Gluten Free. Kosher Certified. Minimum order is one case (108 packs).
We can also customize this item with your logo for an additional one-time set-up fee of:
$430 for a 1-color design
$545 for a 2-color design
$725 for a 3-color design
$930 for a 4-color design. 
Lead time is 5-7 weeks.  Artwork should be submitted in an .EPS or .PDF format. Please call to order.
- Piece Size: 1-3/8" x 1-1/8" x 0.5" deep
- Net Weight: 0.5 oz. (each piece)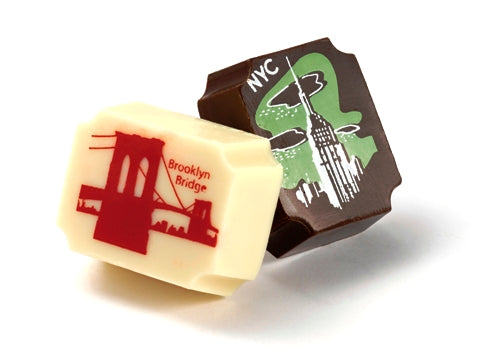 100 years of chocolate making experience
Hand-crafted in small batches for exceptional taste and superior quality
Factory freshness and quality guaranteed
Kosher Certified by the Orthodox Union
Frequently Asked Questions
What makes Lilac Chocolate the most luxurious handmade chocolate?
How do you keep the chocolates from melting during shipping?
What is your return policy?
Can you deliver same day in New York City?