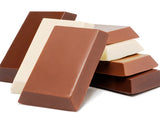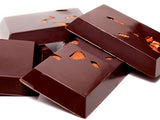 Chocolate Bars
Regular Price
Sale Price
$13.50
You'll LOVE our freshly poured Chocolate Bars!
These artisan Chocolate Bars are hand-poured into handsome molds that look as good as they taste. We use our finest chocolate to create a bar that's full of flavor in a simple and unpretentious design. Available in pure milk, dark, white, 72% (Dairy Free) chocolate and 72% (Dairy Free) chocolate with Almonds. Gluten Free. Kosher Certified. Handmade in Brooklyn.
- Size: 3" x 2" x 3/8"
- Net Weight: 2 oz.
Note: Dairy Free Chocolate may contain traces of dairy ingredients.
100 years of chocolate making experience
Hand-crafted in small batches for exceptional taste and superior quality
Factory freshness and quality guaranteed
Kosher Certified by the Orthodox Union
Frequently Asked Questions
What makes Lilac Chocolate the most luxurious handmade chocolate?
How do you keep the chocolates from melting during shipping?
What is your return policy?
Can you deliver same day in New York City?
Great!

It was really good and the texture was rich, creamy, and smooth. Will definitely buy again!

Best chocolate in the USA

The chocolate bars are the best I have ever eaten. As a bonus, they are gluten free!

Best dark chocolate I've ever had

I looked up Li-Lac after seeing an episode of Business Insider about their story, and ordered on a whim. I am so glad that I did! This is, quite literally, the best chocolate I've ever eaten.

The three dark chocolate bars are thick, and tricky to cut through, but well worth the effort. Their mouth-feel is silky and smooth, while the taste of rich, dark chocolate is a transforming experience. These are not chocolates to be eaten carelessly, but enjoyed to the full and made to last.
Reviews Loaded
Reviews Added