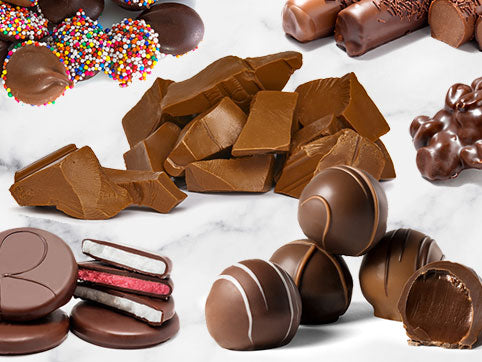 Chocolate-of-the-Month Club
Regular Price
Sale Price
$225.00
You'll LOVE our Chocolate of the Month club!
Life's little luxuries help us all get through the day. That's why we created our Chocolate-of-the-Month Club. It's the ultimate treat for yourself or a delicious gift for a loved one! Each month you'll receive a 1.5 lb. box of our fresh, gourmet signature chocolates plus seasonal favorites that are not always available in our stores! This is a great gift for any chocolate lover and a perfect way to discover new items each month. All our chocolate is Kosher Certified and Handmade in Brooklyn.

When one box runs out, another will be on its way as you slowly taste your way through artisan old-school favorites and seasonal surprises. The monthly subscriptions do NOT renew - so you don't have to worry about any unexpected charges.
This item ships FREE within the continental United States. Monthly shipments are sent out during the first week of the month, so when you place an order for Chocolate-of-the-Month, your first shipment will be sent out the first week of the following month. 
Jan:    Celebrate the New Year with French Assortment favorites
Feb:    Be my Valentine hearts: Marshmallow, Marzipan and Hazelnut Truffle
Mar:   Gourmet Truffle bonanza in 8 tempting flavors plus Hazelnut Truffle Squares
April: Enjoy Easter favorites with chocolate-filled Eggs & Easter Nonpareils
May:  Old-School Favorites: Almond Bark & Pecan Chews
June:  Summer Fudge: Chocolate Fudge in 4 flavors
July:  Summer Fruits with Orange Peel, Lemon Peel, Apricots & Ginger 
Aug:  Summer Picnic with Chocolate Pretzels, All-American Smores & Pecan Pralines
Sept:  Back to School with Chocolate Oreos, Peanut Butter Cups & Caramel Bars
Oct:   Halloween delights with Marshmallow Bars, Caramel Squares, and French Mints
Nov:  Thanksgiving comfort with Butter Crunch, Hazelnut Rolls and seasonal favorites
Dec:  Holiday favorites with Cream Patties, Marzipan Acorns and Caramels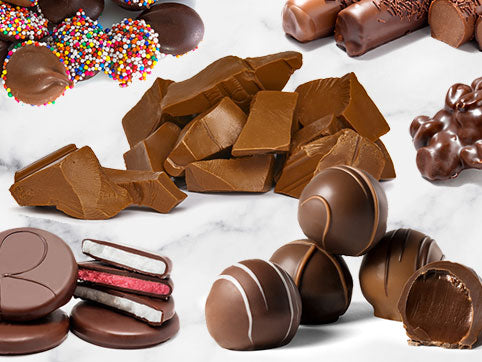 100 years of chocolate making experience
Hand-crafted in small batches for exceptional taste and superior quality
Factory freshness and quality guaranteed
Kosher Certified by the Orthodox Union
Frequently Asked Questions
What makes Lilac Chocolate the most luxurious handmade chocolate?
How do you keep the chocolates from melting during shipping?
What is your return policy?
Can you deliver same day in New York City?