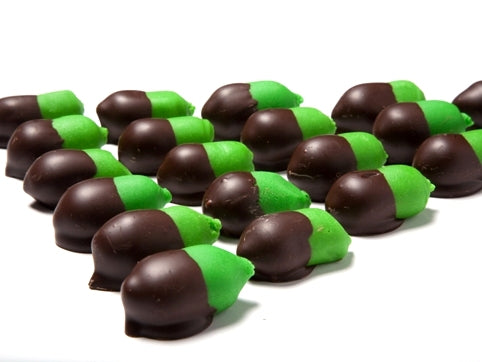 72% Dark Chocolate Marzipan Acorns (Dairy Free)
Regular Price
Sale Price
$49.00
You'll LOVE our 72% Dark Marzipan Acorns!
We make fresh marzipan into Acorn shapes using pure Almond Paste from our founder's original recipe and hand dip each Acorn in our 72% extra dark chocolate (dairy free) to create the perfect medley of flavors. Savor the taste! Handmade in Brooklyn. Gluten Free. Dairy Free. Kosher Certified.

- Size: 1.5" long
- Net Weight: 0.5 oz.
- Note: Dairy Free Chocolate may contain traces of dairy ingredients due to shared equipment.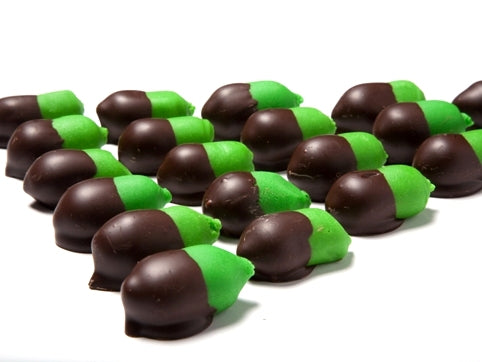 100 years of chocolate making experience
Hand-crafted in small batches for exceptional taste and superior quality
Factory freshness and quality guaranteed
Kosher Certified by the Orthodox Union
Frequently Asked Questions
What makes Lilac Chocolate the most luxurious handmade chocolate?
How do you keep the chocolates from melting during shipping?
What is your return policy?
Can you deliver same day in New York City?
Delicious marzipan

I love the marzipan acorns! So fresh and tasty. The come packed really well to protect against heat damage.

OMG

These are soooo good. I remember when I was young(er) my parents would get these for me and then we couldn't find them until now. These are the best marizpan candies ever. You have to try them..

I love marzipan!

Marzipan acorns are so fresh and delicious. It was hard not to devour the whole box at one sitting. The candy came well packaged, with cooling bags to prevent any melting or damage. This was a real plus in so ch hot weather.
Reviews Loaded
Reviews Added