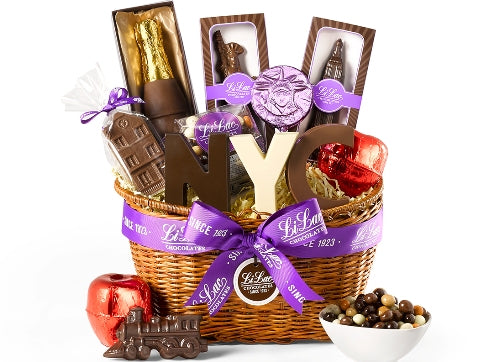 NYC Chocolate Gift Basket (3 lbs.)
Regular Price
Sale Price
$165.00
NYC Chocolate Gift Basket
Our NYC Chocolate Gift Basket is a great way to welcome any important guest to New York! This sturdy woven basket is filled with an abundance of impressive New York City icons - including a chocolate Statue of Liberty, Empire State Building, NYC letters, and more. This gourmet chocolate basket is tied with a handsome satin ribbon, and makes a perfect welcome gift for out-of-town guests, corporate visitors, or new home buyers. Handmade in Brooklyn. Gluten Free. Please note: basket style may differ from the picture above.

Items Include:
- Statue of Liberty
- Empire State Building
- Chocolate Townhouse
- Champagne Bottle
- Chocolate Apple
- 1 Statue of Liberty Pop
- Chocolate Train
- NYC Letters
- NY Mix Espresso Beans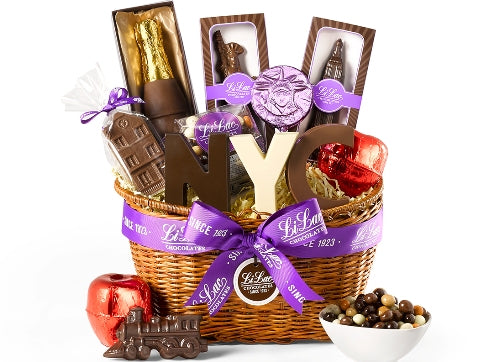 100 years of chocolate making experience
Hand-crafted in small batches for exceptional taste and superior quality
Factory freshness and quality guaranteed
Kosher Certified by the Orthodox Union
Frequently Asked Questions
What makes Lilac Chocolate the most luxurious handmade chocolate?
How do you keep the chocolates from melting during shipping?
What is your return policy?
Can you deliver same day in New York City?
I do not recommend this product

Did Not Receive Exact Items in Basket

This was a special gift; unfortunately all items that were stated in description were not in the basket when it arrived. I was quite embarrassed as this was for a dear family member.
Reviews Loaded
Reviews Added