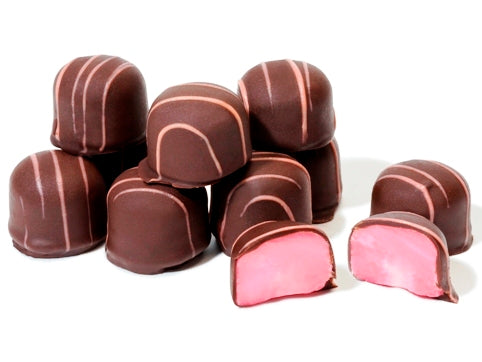 Raspberry Creams
Regular Price
Sale Price
$35.00
You'll LOVE our bite-size Raspberry Creams!
Hidden beneath each chocolate bite you'll find a deliciously soft and smooth raspberry cream filling. These irresistible Raspberry Creams are handmade using our finest dark chocolate and quality ingredients. Packed 20 creams per box. Gluten Free. Kosher Certified. Handmade in Brooklyn.

- Piece Size: 1" x 3/4"
- Net Weight: 0.5 oz.(each)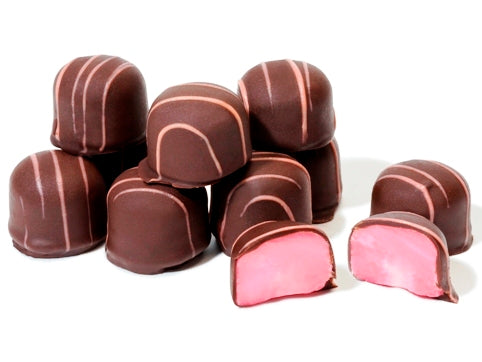 100 years of chocolate making experience
Hand-crafted in small batches for exceptional taste and superior quality
Factory freshness and quality guaranteed
Kosher Certified by the Orthodox Union
Frequently Asked Questions
What makes Lilac Chocolate the most luxurious handmade chocolate?
How do you keep the chocolates from melting during shipping?
What is your return policy?
Can you deliver same day in New York City?
No Raspberry Flavor

Sorry, but they're pink sugar creams. I really wanted raspberry flavor. They're nice, otherwise.

Hint of raspberry

If you are looking for a strong flavor of raspberry these are not for you. The raspberry flavor is very subtle in these chocolates. Honestly, If I didn't know ahead of time that these were supposed to be raspberry I probably wouldn't have guessed. Unfortunately I was really looking for something with a stronger raspberry taste and ended up giving most of the chocolates away.

I was able to try one of the raspberry ganache truffles from Li-Lac and those had a stronger raspberry flavor than these and were quite delicious!

If you like chocolate creams and are looking for just a hint of flavor then you will love these. If you are looking for a solid raspberry flavor these may disappoint.

I do not recommend this product

Not so good.

I am sad because it tasted old and frozen. It crumbled in my hand.
Reviews Loaded
Reviews Added