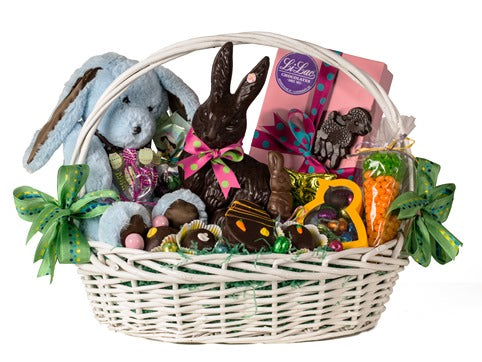 Colossal Gourmet Chocolate Easter Basket
Regular Price
Sale Price
$350.00
Colossal Gourmet Chocolate Easter Basket
Our Colossal Chocolate Easter Basket is filled with the best selection of gourmet bunnies and premium candies for the Easter holiday. This extravagant Basket is designed to impress even the most discerning clients! The basket is sturdy woven wicker that will remain a keepsake long after the candies are gone; and is filled with a impressive 13" Sitting Rabbit along with a generous collection of gourmet chocolates, jelly beans, eggs, pops and other Easter delights. Gluten Free. Kosher Certified. Handmade in Brooklyn.  Contains more than 8 lbs. of chocolate and candies. (Note: Basket styles may differ from the one pictured above, depending on availability).
Basket Includes:
- 13" Sitting Rabbit (40 oz.)
- 2 Bags of Jelly Beans (12 oz. Each)
- 2 Bags Foiled Chocolate Eggs (8 oz. Each)
- 2 Bags Malted Eggs (8 oz. Each)
- 2 Jelly Bean Carrots (7 oz. Each)
- 2 Bunny Pops (1 oz. Each)
- 2 Lamb Pops (1.5 oz. Each)
- Bunny Box (5 oz.)
- 3 Signature Eggs (2.25 oz. Each)
- 2 Giant Marshmallow Eggs (3 oz. Each)
- 2 Chocolate Butterflies (1.25 oz. Each)
- Large Plush Toy

- Basket Size:
- Net Weight: 135 oz. (2211g)

This item ships in an oversized box and additional shipping charges will be applied at checkout.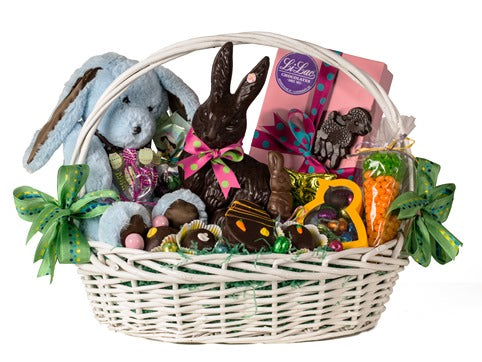 100 years of chocolate making experience
Hand-crafted in small batches for exceptional taste and superior quality
Factory freshness and quality guaranteed
Kosher Certified by the Orthodox Union
Frequently Asked Questions
What makes Lilac Chocolate the most luxurious handmade chocolate?
How do you keep the chocolates from melting during shipping?
What is your return policy?
Can you deliver same day in New York City?